Oxford Innovation Space has appointed Gary Jennings as the new Innovation Director at The EpiCentre in Haverhill alongside Centre Manager, Andrew Bell.

Gary has many years' experience of promoting healthcare businesses. "I am very pleased to be taking on this new role having worked in the international business arena for 30 years. My job will be to help companies at The EpiCentre scale-up and grow both in the Cambridge, Suffolk and Norfolk region, throughout the UK and internationally."
Gary and Andrew take over from Centre Manager Kelly Boosey who has been promoted
within Oxford Innovation and Innovation Director, Babita Devi.
Andrew, who is local to the area, has a long-term career within centre management and the hospitality industry. He previously worked for TWI's facility The Granta Centre part of the South Cambridge Business Technology Cluster for five years and he is well connected in the region's businesses.
The EpiCentre operated by Oxford Innovation Space has quickly become part of the region's business ecosystem, building a strong events programme for business and the local community. Offering support services beyond the facilities and physical space which includes laboratories, office, co-working and meeting rooms. Its ethos is about supporting small and medium sized businesses to scale and grow. The business support provided by its dedicated Innovation Director and centre team makes all the difference, providing additional guidance, signposting connections and can even go as far as providing 1-2-1 coaching and mentoring.
To find out more about business support at the EpiCentre – click here
To find out more about Gary – via Linkedin – click here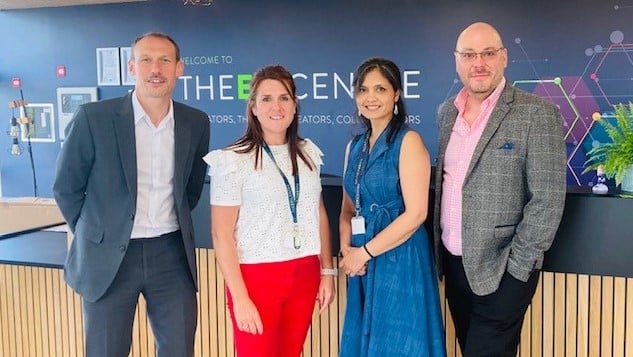 Gary (far right) with Babita (middle left), featured with Andrew and Kelly