Haverhill's Epicentre building, with its business support services, operated by Oxford Innovation Space, is a major incentive for companies. Interior design company, Yellow Kiosk, is the latest to move in.
Until recently, Yellow Kiosk has specialised in residential interiors both home and abroad. Since opening for business at The Epicentre, the focus is to develop the company by branching out to the commercial sector.
The company has taken on Kieron Heffernan, who has extensive experience in the Design & Build market. Having worked in London for several years, he consistently demonstrated success transforming client ideas into beautiful, functional design solutions. He hopes to share some of this experience with his team having worked with a host of clients including hedge funds and blue-chip companies. Heffernan is to oversee and grow the business with East Anglia as its hub but with ambitions to operate both nationally and internationally.
Yellow Kiosk has already designed and managed the fit out of the Roadfill® offices – another company located at the Epicentre. With over 20 companies already in the centre and further clients moving in, there is potential to provide them with unique interiors.
Heffernan says, "As we are starting our journey into the commercial interiors field, the Epicentre is the ideal location for us. We can expand into more space in line with the company's growth, taking advantage of the flexible occupational terms."
Gary Jennings, Innovation Director for Oxford Innovation, has already spoken with Yellow Kiosk about the additional services that the centre offers.
"Being located at the EpiCentre means we can make full use of the specialist business support offered by Oxford Innovation as part of the package. We are looking forward to working with Gary and the wider Oxford Innovation team to develop our business further. The networking events and access to government and local authority grants either in the technology field or in personnel support will help to develop Yellow Kiosk," says Heffernan.
Andrew Bell (Epicentre Manager) says, "We welcome Yellow Kiosk to the centre and will be helping it to fulfil its growth strategy."
The Epicentre provides support by offering services beyond the facilities and physical space. This includes laboratories, offices, co-working and meeting rooms. Its ethos is about supporting small and medium sized businesses to scale and grow. The business advice provided by its dedicated Innovation Director and centre team makes all the difference, providing additional guidance, signposting connections and even go as far as providing 1-2-1 coaching and mentoring.
To visit the Yellow Kiosk website – Click here
To find out more about office space at the EpiCentre – click here
To find out more about business support at the EpiCentre – click here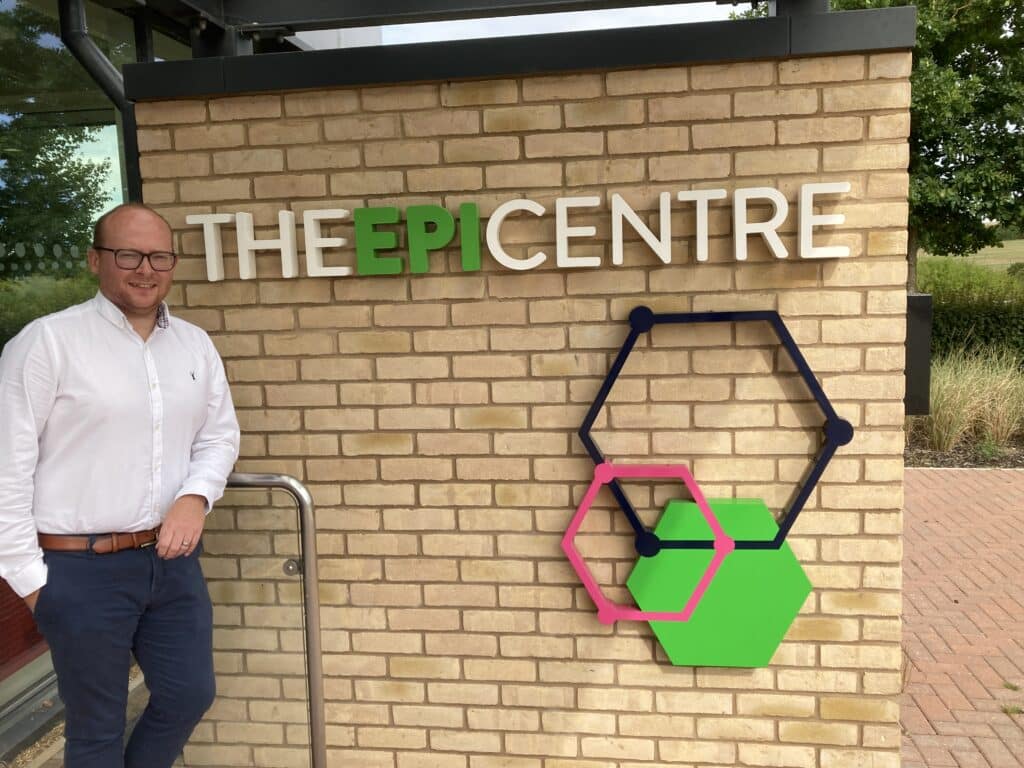 Above – Keiron Heffernan outside the entrance to The EpiCentre.