The Mayor Haverhill, Bruce Davidson, last week visited The EpiCentre and gave it a thumbs up in encouraging business to grow and provide employment opportunities for the town.
Mayor Davidson said: "I saw the laboratory and office space and its very, very good with a welcoming café in the reception on the ground floor as well. The EpiCentre is a modern facility, in a great and highly visible location, on the entrance to Haverhill. nicely landscaped and with adequate parking, what's not to like." He added.
The Mayor met a number of the companies that are in occupation at The EpiCentre and acknowledged that while they are small companies they have the scope to grow. "These are the sort of companies that will hopefully be able to recruit staff from Haverhill who do not want to commute to Cambridge or Bury St Edmunds," he commented.
The companies the mayor met were:
K9, the 3D character outsourcing studio for games, film, TV and VR. "They are a really nice vibrant team who are expanding and looking to bring in trainees and students, and hopefully they may be recruited from Haverhill."
Highworth Care a domiciliary and respite care business."They are expanding and could easily recruit people from Haverhill. There is a lot of competition for care in the community and something in my opinion we are crying out for as we never seem to have enough carers."
Hearing clinician Keyla de Magalhaes who runs her company The Audiology Expert. "I think what she is doing is amazing as her competition is I suspect among the likes of Specsavers and Boots. Her dream is to have a group of health professionals such as doctors, dentists and audiologists as a one-stop health station. It's a great concept and I wish her all the best."
Centre manager, Andrew Bell said: "We were delighted that the mayor was able to find the time in his busy diary to visit the EpiCentre and to see the growing companies here that will hopefully make a significant contribution to the local economy and to provide jobs for local people."
The EpiCentre is managed by Oxford Innovation Space. Its UK network of innovation centres provides flexible, cost-effective office, lab and workshop solutions for over 1000 entrepreneurs, start-up & growing companies who need space and support to grow.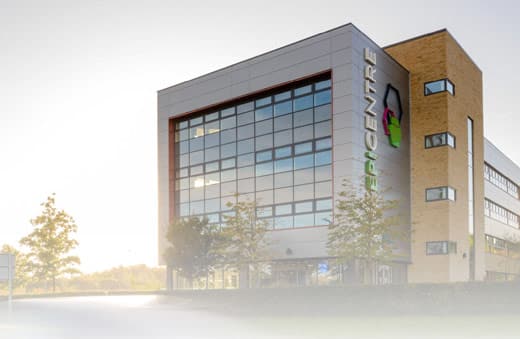 Above – from left to right,
Ashley – K9 Digital, Keyla – The Audiology Expert , Bruce – Mayor of Haverhill, Tia – K9 Digital, Catherine – Highworth Care , Andrew – EpiCentre