Innovate UK Innovation Loans, Investor Partnerships and Support,
June 20, 2022 @ 15:00

-

17:30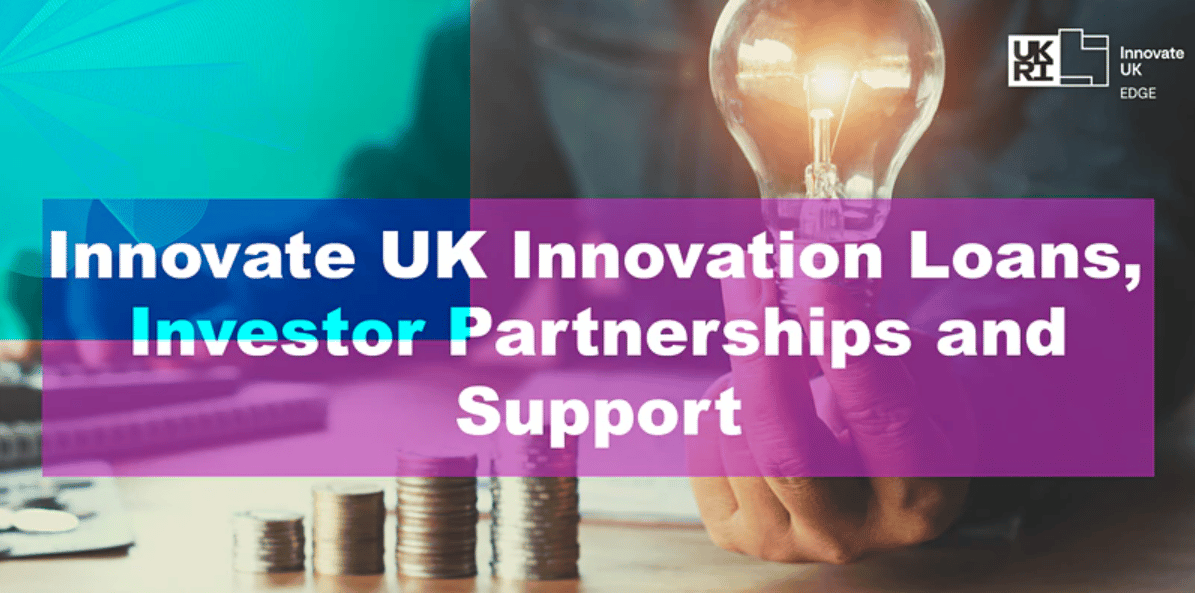 Are you looking for funding to commercialise your innovation? Do you need help to navigate the funding maze?
About this event
You can meet the experts who can guide you on Monday 20 June!
Join us at Innovation Centre, Knowledge Gateway, Colchester, Essex CO4 3ZQ – 3.00pm to 5.30pm including networking and refreshments. Spaces for are capped at 50 delegates so make sure to secure your place now!
Innovation loans from Innovate UK provide flexible and patient capital to support highly innovative late-stage research and development (R&D) projects with the best potential for the future. They can take your ground-breaking idea further than grant funding alone – though Innovate UK offers that too!
Innovation loans of between £100,000 and £2 million are available to SMEs to fund up to 100% of eligible R&D costs where you can demonstrate a clear route to commercial success and suitability to take on a loan commitment. Loans have a maximum term of 7 years, an interest rate of 7.4% (with partial deferral during the project period) and a structure designed to meet the needs of innovative businesses.
The innovation loans programme has moved from a pilot to a £150m programme to be delivered over the coming 3 years. The interim evaluation of the pilot showed that innovation loans allowed successful businesses to pursue new product development and commercialisation activities, embark on more risky projects, invest in new R&D-related equipment, develop skills and innovation capacity and raise additional investment.
Investor partnerships from Innovate UK offer a package of public sector grant funding and private equity investment to support R&D and accelerate the process of commercialisation. This programme is aimed at SMEs that seek capital at the same time as a grant so that their R&D project is fully funded and they have adequate capital to move forward on their journey to growth at scale.
Investor partnership programmes to date have supported over 150 businesses, with £38m in committed grant funding aligning with over £100m in investment from nearly 30 investor partners. Businesses have gone on to raise over £300m in follow-on investment.
You can book on here