International Women's Day – Embrace Equity Event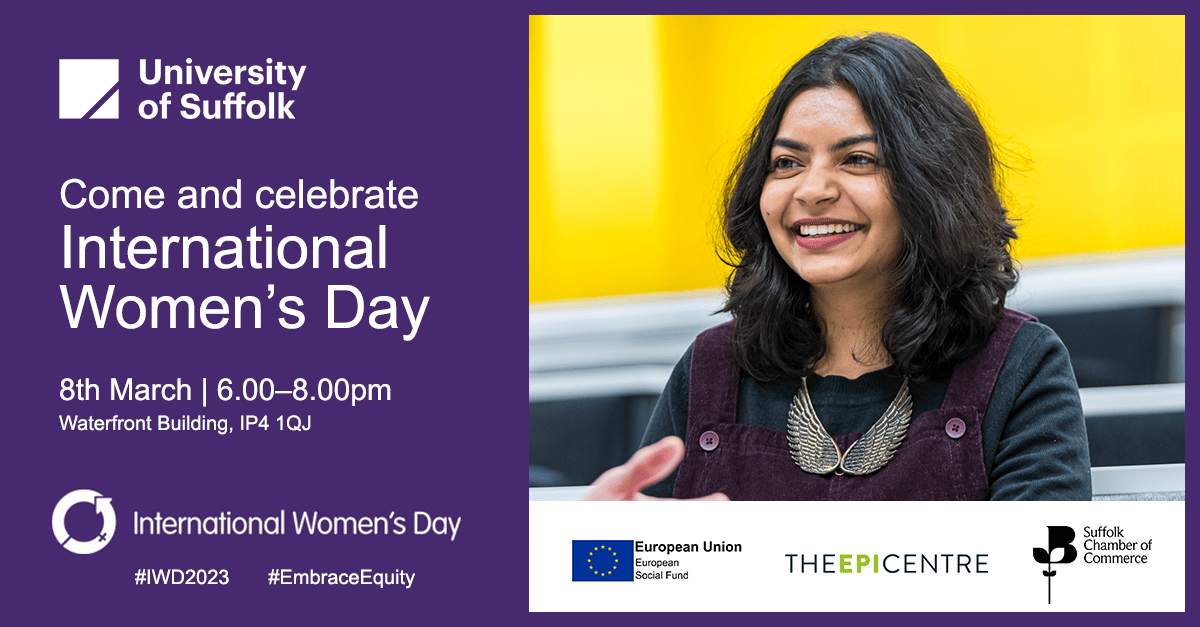 This FREE event, hosted by three partner organisations in Suffolk, aims to raise the aspirations of women at all stages of life and careers.
Following on from last year's brilliant International Women's Day event at The Hold; University of Suffolk, Epicentre Haverhill and Suffolk Chamber of Commerce have again joined forces to host an inspirational event to celebrate female leadership.
Our inspiring keynote speakers will share their personal experiences and offer powerful advice on how to fulfil your potential as a woman in business.
Celebratory refreshments and networking follows the keynote speakers.
Doors open at 5.45pm.
The event is set to offer a legacy of support through shared experiences and connections with The University of Suffolk, Suffolk Chamber of Commerce, The EpiCentre Haverhill and event participants.
This year's theme is #EmbraceEquity – together we can celebrate our Individual journeys to equality. A focus on gender equity needs to be part of every society's DNA. Equity means creating a fair and equal world.
For Internationals Women's Day and beyond, let's all fully #EmbraceEquity.
If you missed last year's event, you can catch up with highlights of the IWD2022 keynote speeches below.
Meet our speakers
As well as an introduction from our Chancellor Professor Helen Pankhurst, great-granddaughter of Emmeline Pankhurst and author of Deeds Not Words: The Story of Women's Rights, Then and Now, we are lining an incredible programme of five fantastic speakers to inspire and provoke discussion:
Liliana Antunes
Liliana is Co-Founder and Head of Product Testing at ExpressionEdits, a Biotech start up, spun out of the University of Cambridge, which is looking to bring forward the full potential of genetic production.
Deborah Benson
Deborah has unique experience as the first female Managing Director of a large-scale construction and development company and running three multi-million-pound companies. Deborah is the IoD's Programme Lead for Leadership and developed the Leadership for Women course for the University of Suffolk's In Career Education and Training Project.
Craig Jones
Craig was awarded an MBE in 2006 for services to equality and human rights. Following a career in the Royal Navy, Craig became head of diversity at Barclays helping to create one of the largest women's employee network groups in the city. In 2020, he founded the military charity Fighting with Pride.
Jenny Butler
In 2021 Jenny returned to her beginnings in shipping at Cory Brothers Shipping Agency, to lead the Liner Division and Project Team as a Director. Working in a traditionally male dominated industry, Jenny is a vocal champion for gender quality and levelling up, both in and out of the workplace.
Elma Glasgow
Elma is Founder & Director of Aspire Black Suffolk. An organisation led by four black female professionals with a shared passion and vision; to change lives, empower communities and raise awareness of the key issues surrounding race, equality and inclusion in Suffolk and beyond.
Please note, this event will be filmed and photos will be taken for PR purposes.
Booking is essential – please follow the Eventbrite link.
This IWD event is hosted by three partners – University of Suffolk, The Epicentre Haverhill, and Suffolk Chamber of Commerce. Participant contact details only will be shared between the partners for the purposes of post event follow up.
This event is an engagement event for the In Career Education and Training Project which is a project funded 50% by the European Social Fund (ESF) to deliver high level, leadership and digital skills. Because this event is sponsored by the European Social Fund, information supplied by participants will form part of the confidential essential data required for ESF projects, and as such will be retained for 10 years post project completion in line with our data protection policy which fully complies with the requirements of GDPR legislation, and regulates the processing of data.