Managing the changing work environment with Agile
October 3 @ 13:00

-

15:00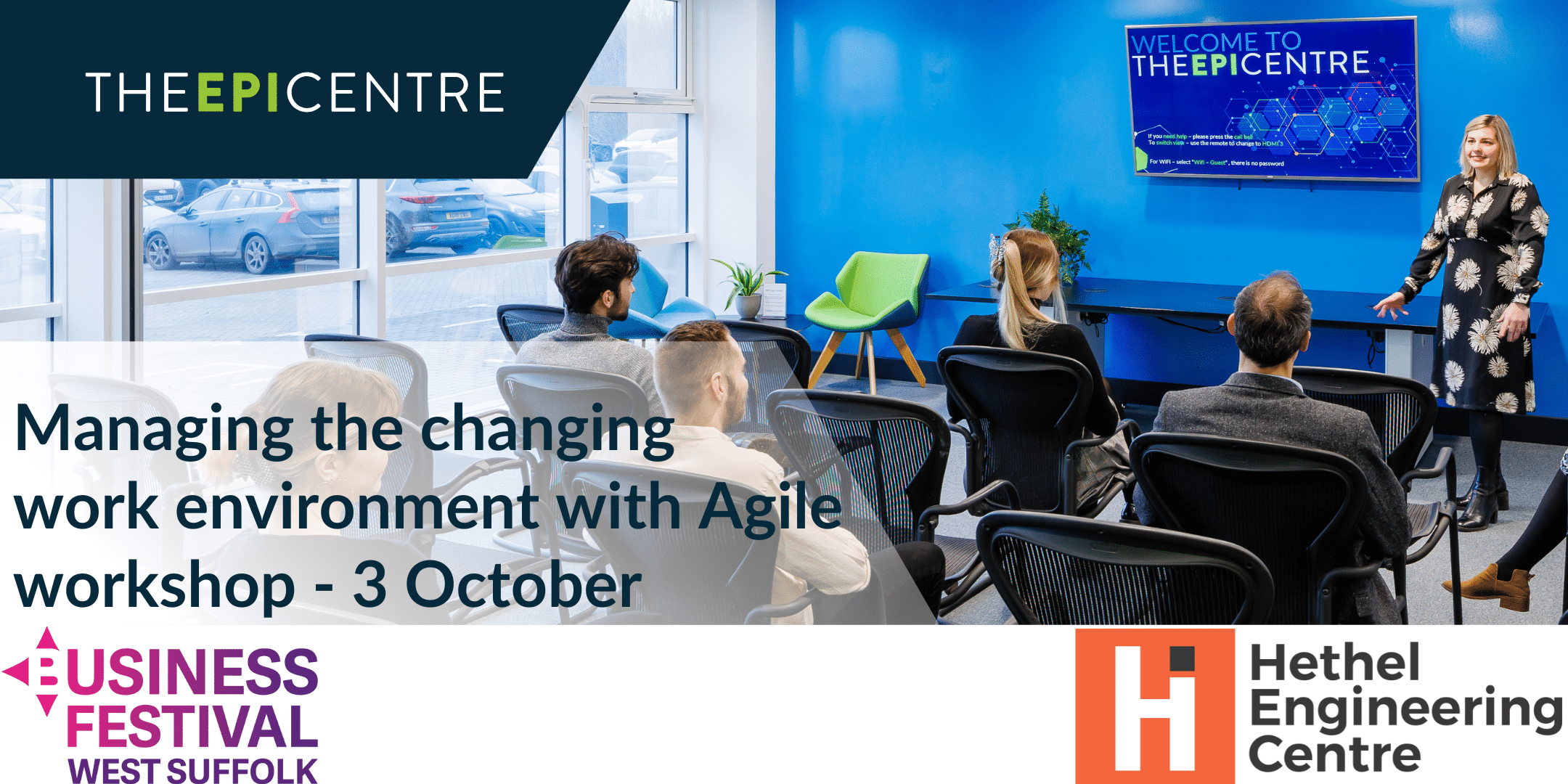 In partnership with Hethel Innovation with the West Suffolk Business Festival
A lot has changed in the last three years when it comes to work environments. A number of businesses have moved their entire operation online, others have adopted a more hybrid approach and some businesses are back to everyone working from the office again.
However, projects are still failing or suffer delays every single day and the changing work environment can make it more challenging for teams to collaborate efficiently and businesses to run productively. The failure of projects is almost never technology, but because of poor management of tasks and people!
How Agile working can help
If you are interested in learning more about a project management approach that can help you overcome the challenges mentioned above including siloed working, the duplication of tasks and communication efforts then come along to this FREE workshop delivered by Hethel Innovation as a part of the 2023 West Suffolk Business Festival.
This session will provide you with an overview of what Agile is, where it comes from and the benefits its implementation can offer your business or team environment. In this in-person workshop, we will be discussing how you can apply Agile working to all kinds of projects and settings, as well as sharing some quick wins with you on how to get started on your Agile journey!
What will you gain from the session?
An understanding of:
The mechanics of this unique and highly effective operational tool.
How the Agile methodology can be adapted and applied to your business or team depending on your unique organisational setup and goals.
The potential benefits of 'Agile' thinking to you and your teams.
An opportunity for a Q&A session with two qualified 'Scrum Masters' and Agile Coaches.
Who is this workshop for?
Those who have never heard of 'Agile' or have some basic knowledge and want to learn more.
Those that are considering the Agile methodology as a potential project management tool or just as a highly efficient way of continuous working.
Anyone who is unsure if Agile is the right approach for them.
Anyone who manages a team and wants to improve productivity.
Anyone who wants to improve communication and collaboration amongst a team.
Anyone who needs greater cohesion and team focus.
Anyone who believes the future of their working culture should be based on the values of transparency, adapting to change, and a willingness to continuously reflect and improve.
 The 'Managing the Changing Work Environment with Agile' workshop is delivered as a part of the 2023 West Suffolk Business Festival, which will be taking place from the 2nd to the 13th of October. Please see the West Suffolk Business Festival website for more information about events and timings: https://www.businessfestival.org/.
Please contact rnagell-kleven@hethelinnovation.com or spayne@hethelinnovation.com if you have any questions about the workshop.
Please book a place via the ticket link below