Time Management Workshop at The Epicentre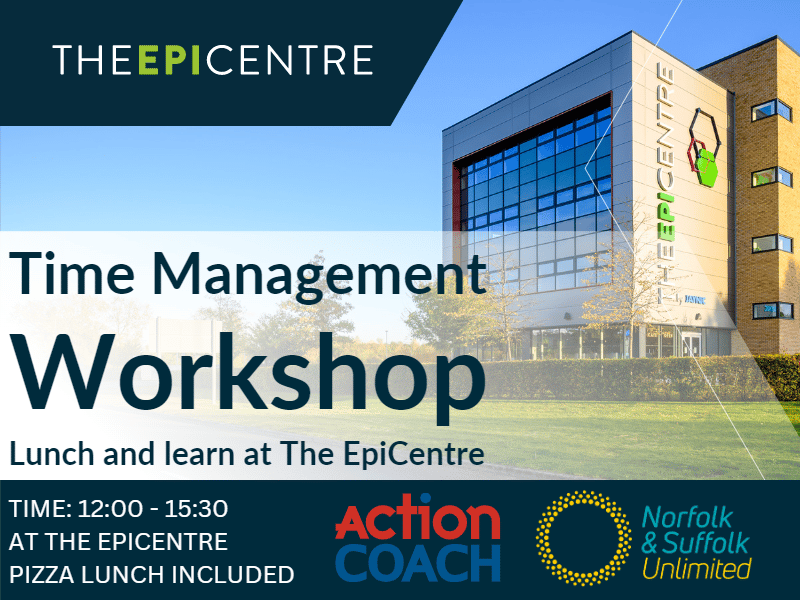 YOU CANNOT MANAGE TIME, however you can manage yourself. Join me (Philip Budd from Action Coach) for this workshop where we will put the theory to one side and talk about what ACTUALLY WORKS when it comes to how you use your time and being more productive.
The way we work has changed, countless zoom calls, working from home and balancing home life with business. Focus and productivity is actually more challenging than ever before.
Starts with lunch – pizza and refreshments (vegetarian options included)
We are going to focus on three key areas:
Self-Mastery – taking control of your daily routine
Planning Mastery – defining what is a priority
Delegation Mastery – let's be honest we all struggle with letting go
By the end of the workshop you will be equipped to:
Prioritise tasks and be more productive
Put in place a default diary that works for YOU!
Get clarity on what is a priority and remove any overwhelm
Delegate the right tasks
Know how to deal with interruptions to your day
Create time in your working week
By attending this workshop you are in serious danger of being more productive 🙂
This event is part of the Connected Innovation programme from New Anglia LEP. It is made possible by the Norfolk Strategic Fund and the Suffolk Inclusive Growth Investment Fund.
Details of your presenter
Phil Budd has a reputation for delivering real results for businesses in East Anglia. Over the past 4 years, Phil has helped hundreds of businesses realise their potential and become acutely aware of the opportunities available: Resulting in tangible growth and increased financial rewards.  When you become a client of Phil Budd, you finally have a trusted ally in business. From day one, the work begins: Listening, actioning, planning and measuring. Phil helps business owners gain clarity and confidence using a proven process of accountability and action-based learning. Clients feel supported, secure and confident that they can achieve their goals and take measured risks. Working with Phil means he has your back. He wants you to succeed and always goes the extra mile to help you achieve your goals. Underpinning all that Phil does is his aim to help his clients create the business and personal life they want for them and their family. Phil provides business coaching through a variety of programmes  – group business education, 121 coaching for business owners, Board level and team coaching.
To book a place please follow the Event Bright links